A custom built inverted microscope for confocal Raman and Brillouin microspectroscopy. The microscope is equipped with a camera for sample localisation using transmitted light. Spectra of Raman and/or Brillouin scattering are then collected from the laser focal volume in a confocal configuration. Spectral mapping of the sample can be achieved using the motorised stage which moves different points of the sample to the laser focus.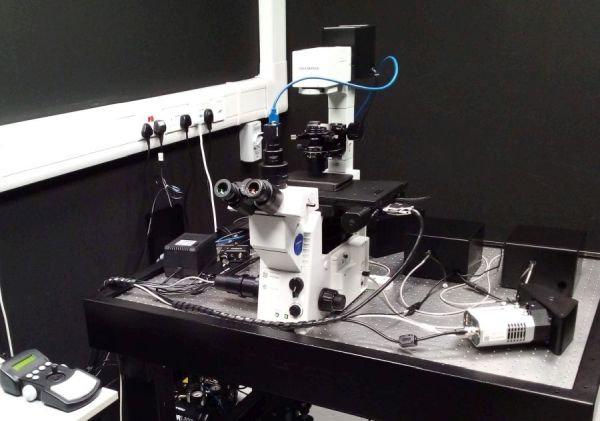 Available techniques:
Raman microspectroscopy
Brillouin microspectroscopy
Objectives:
UPlanSApo 4x/0.16 dry, FWD 13 mm
UPlanFLN 20x/0.5 dry, FWD 2.1 mm, CG 0.17 mm
UPlanSApo 60x/1.35 oil, FWD 0.12 mm, CG 0.17 mm
[FWD = free working distance, CG = cover glass]
Lasers:
561 nm, for the default 100 mW laser power, the power at sample is 16 mW (20x and 60x objectives) or 33 mW (4x objective)
Detectors and cameras:
Custom Raman spectrograph (510 - 3734 cm-1) with Andor iDus camera (DU401A-bvf)
Custom VIPA based Brillouin spectrograph with PCO.edge sCMOS camera (30 GHz free spectral range)
FLIR Chameleon (CM3-U3-50S5M-CS) monochrome CMOS camera for transmitted light imaging, 2448 x 2048 pixels, 3.45 μm/pixel.
Software:
Micro-manager
Andor Solis
Other features:
Usage fees [SGD/hour]
NTU
Academia
Industry
45
45
72
Location
ABIF, SCELSE, B2 (SBS-B2n-27P.5)
Safety Notice
Requires N3 laser license (N2/04107/0169)
Contact
abif@e.ntu.edu.sg; nobic.facilities@e.ntu.edu.sg