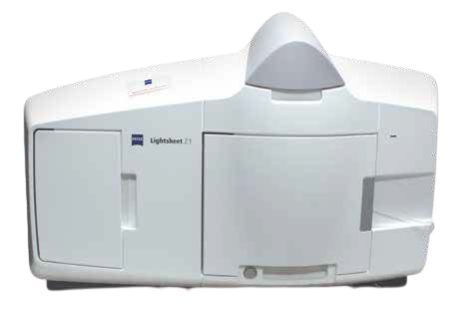 This lightsheet microscope is equipped with illumination optics on two sides for homogeneous sample excitation, pivot scan for 3D imaging, 2 sensitive sCMOS cameras for simultaneous 2-channel imaging and environmental control for live specimens (temperature and CO2 concentration). A camera and an IR LED (to minimise phototoxicity) in the sample chamber facilitate sample positioning.
Objectives:
Excitation (lightsheet formation):
Imaging:
Note that only a single objective lens can be installed in the microscope at a time.
EC Plan-Neofluar 5x/0.16, WD 18.5 mm

W Plan-Apochromat

20x/1.0 water immersion, WD 2.4 mm
[WD = working distance]
Fluorescence excitation lasers:
445 nm
488 nm
515 nm
561 nm
Fluorescence filter sets:
Note that the filter sets do not separate excitation from emission paths; it splits fluorescence onto the two cameras for 2-channel imaging. The filter sets consist of emission filter 1; secondary beamsplitter; emission filter 2.
CFP/YFP (BP 460-500; LP 510; BP 525-565)
CFP/mCherry (BP 460-500; LP 560; LP 585)
GFP/mCherry (BP 505-545; LP 560; LP 585)
YFP/mCherry (BP 525-565; LP 580; LP 585)
[BP = band pass, LP = long pass]
Detectors and cameras:
2x PCO.edge (1920x1920 pixels, 6.5 µm/pixel)
Software:
Other features:
temperature and CO2 concentration control
Usage fees [SGD/hour]
NTU
Others
60
75
Location
EMB 04-02Y, Zebrafish facility
Contact
nobic.facilities@e.ntu.edu.sg