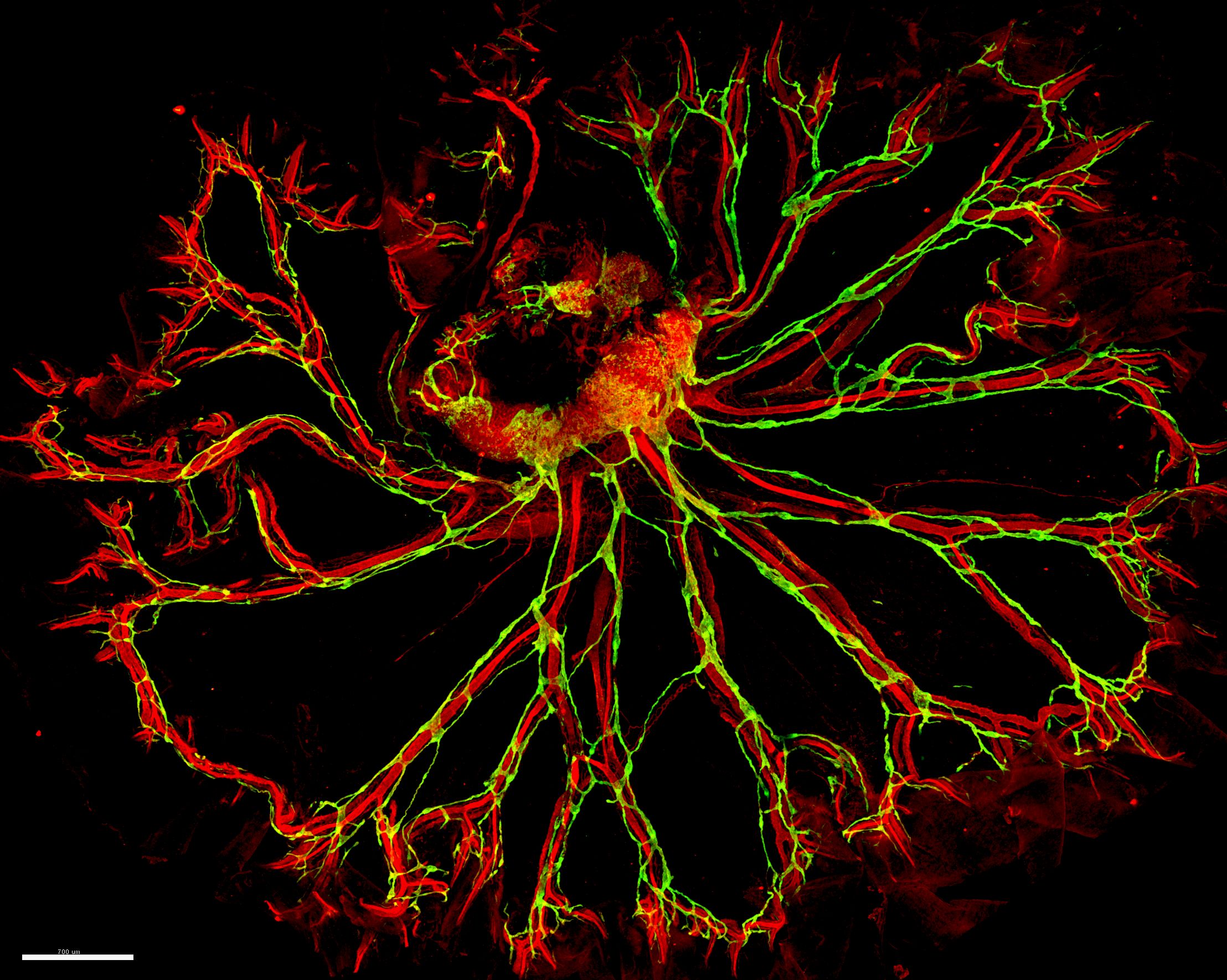 1st Place
Getting into the Gut of plumbing
Aparna Mahadevan (LKCMedicine)
The intestinal mesentery of a Prox1-GFP P0 newborn transgenic mouse pup was carefully dissected out from the intestines and whole-mount immunostained for GFP (Prox1, green – lymphatic vessels) and CD31 (red – blood vessels), covering the complete plumbing of the intestines. The immunostained mesentery was flat-mounted on a slide with spacers and imaged on the Carl Zeiss LSM710 inverted confocal microscope using C-Apochromat 40X/1.2 W objective, 0.6X zoom, 561 and 488 lasers, z-stack and tile functions. Images were stitched on Imaris and further processed using its maximum intensity projection and smoothening functions. As can be seen from the image, the intestines have a beautiful plumbing system of lymphatic and blood vasculature that drain into the mesenteric sac at the root (centre). The scale bar corresponds to 700um.

2nd Place
Bioluminescent aquatic beauty
Arun Kumar Kaliya Perumal and Philip Ingham (LKCMedicine)
A red fluorescent-illuminated skeleton of an Alizarin Red stained live adult casper zebrafish imaged with ZEISS Axio Zoom.V16 - Stereo Zoom Microscope in DsRed channel. Image taken as 5 separate tiles and stitched using ImageJ. Scale bar - 1000um.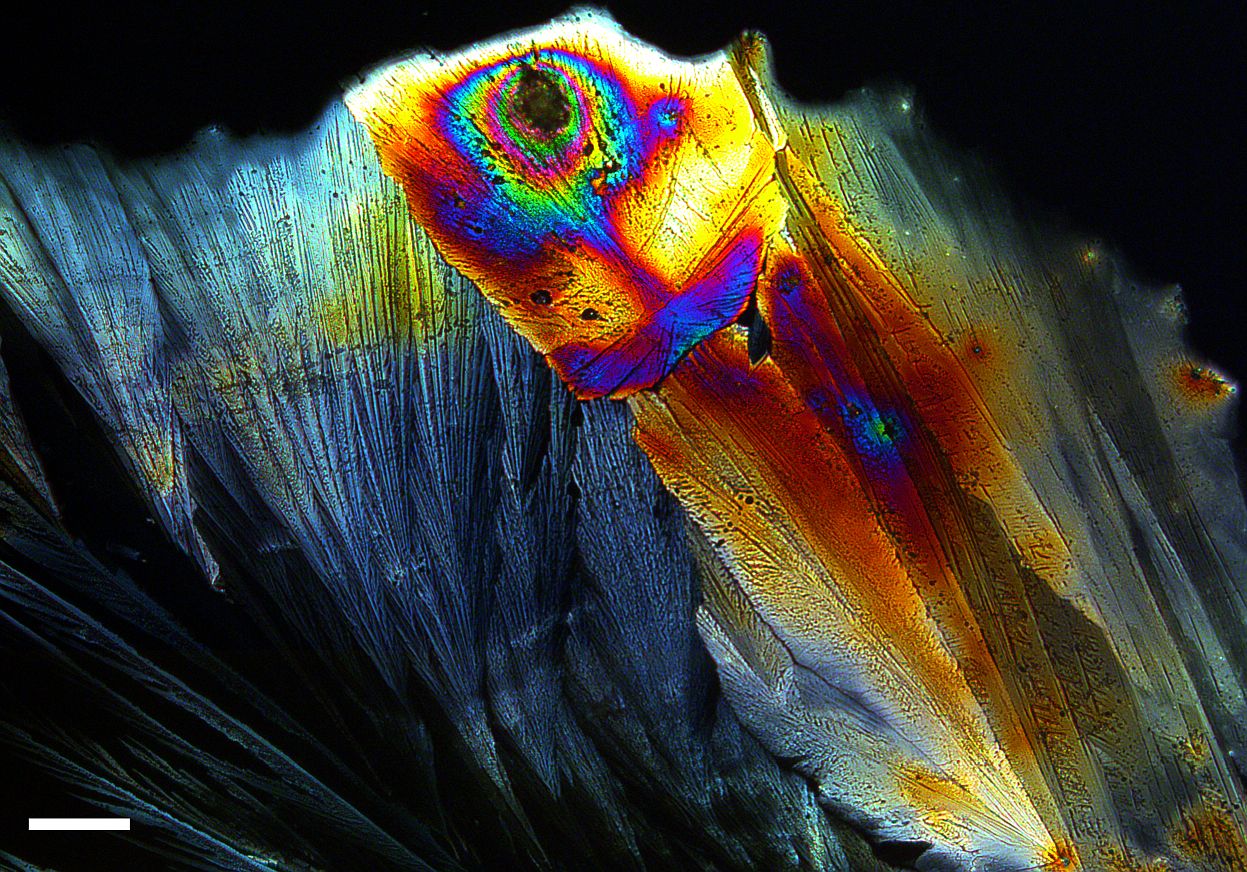 3rd Place
Pretty paracetamol
Harsha Mahabaleshwar (LKCMedicine)
Powdered paracetamol (Panadol) dissolved in 50% ethanol to initiate crystallization and imaged on Leica DM5500 microscope using polarized light through HC PL Apo 10x/0.4 dry objective. Scale bar indicates 100µm. The image shows the vibrant colours of paracetamol crystals due to birefringence.
❮
❯
NOBIC Image Contest 2023
NOBIC has organised an image contest for users of NOBIC imaging facilities (AOBIP at LKCMedicine and ABIF at SCELSE) following in the tradition of NOBIC Image Contest 2021. The contest was open for image submission between 15th June and 1st August 2023. We have received 20 images which were then anonymously evaluated by an international panel of judges comprising representatives from academia and industry:
Prof. Peter Török, NOBIC, NTU, Singapore, panel chair
Dr. Ma Xiao Xiao, A*STAR Microscopy Platform, Singapore, panel vice chair
Dr. Sohail Ahmed, United Kingdom, formerly of the Institute of Medical Biology, A*STAR, Singapore
Dr. Astrid Bjørkøy, Norwegian University of Science and Technology, Norway
Dr. Samuel Ko, Carl Zeiss Pte Ltd, Singapore
Dr. Marie Kodedová, Institute of Physiology of the Czech Academy of Sciences, Czech Republic
In the first round, the judges selected 10 finalists and in the second round they selected 3 winners from among the finalists. We'd like to congratulate here to the winners and finalists and to express our thanks to the panel of judges. Last but not least, we'd like to thank all participants of the contest. There were more great images than there could be finalists. We hope many more equally fascinating images will be acquired at NOBIC Facilities and we are looking forward to helping you along the journey.
Prizes for the winners were contributed the contest sponsor Carl Zeiss Pte Ltd.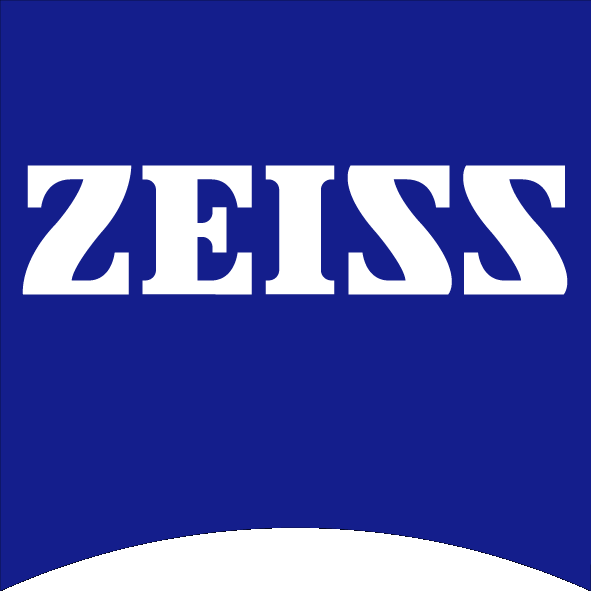 For more details refer to the contest announcement.
Other Finalists (in alphabetical order of image titles):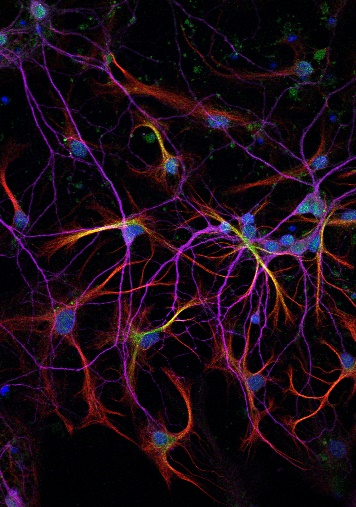 Entangled
Vibhavari Aysha Lee-Bansal and Soon Hui Rong (LKCMedicine)
Confocal image of primary hippocampal co-culture showing astrocytes (red) entangled with neurons (magenta). Cells were co-stained with TEF, a circadian clock associated protein, (green) to show differential localization in astrocytes (cytoplasmic) and neurons (nuclear). Nuclei were labeled with Hoechst (dark blue). Image was taken on Carl Zeiss LSM 800 with a Plan-Apochromat 40x oil immersion lens. Whole width of image is 200uM.
---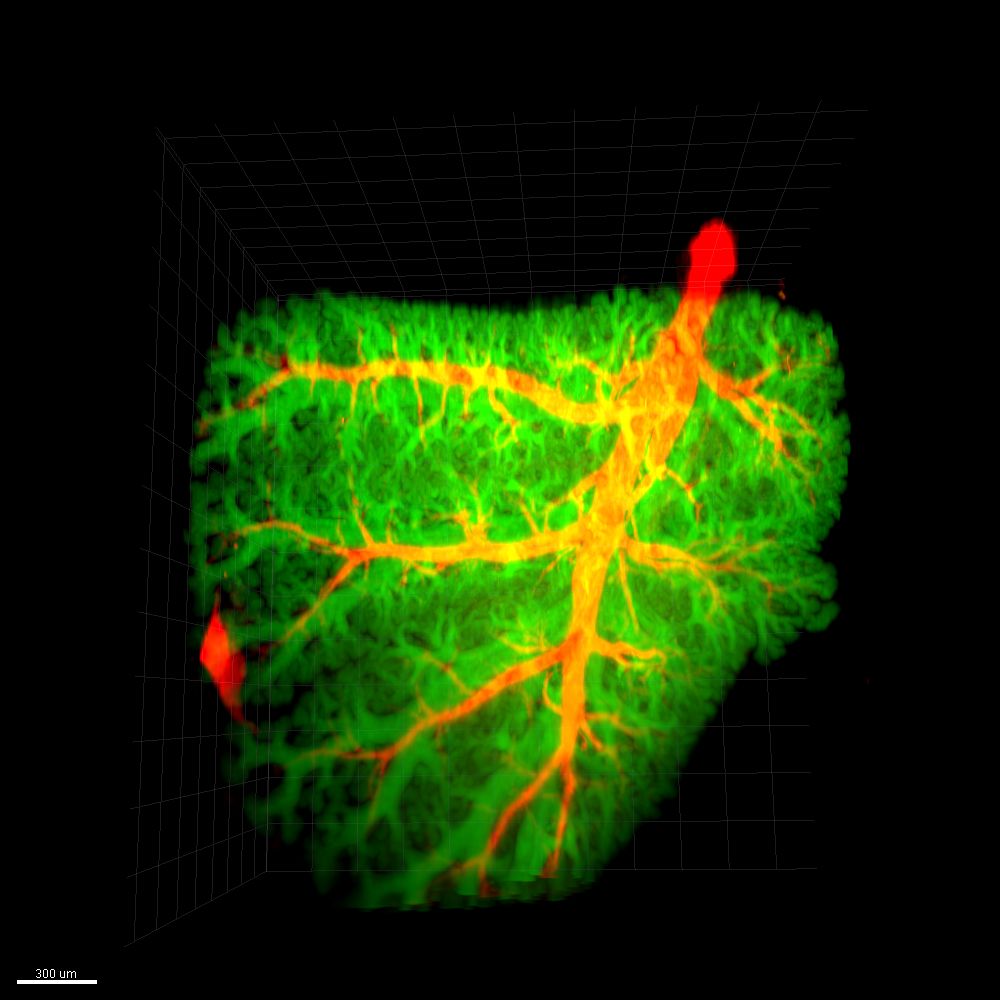 Exploring the Tree of Life within – Unveiling the Beautiful Airway Arteries
Aravind Sivakumar (IMCB, A*STAR)
This image captures the pulmonary airway tree and the intricate network of the pulmonary arterial vessels that are closely follow its architecture in a single lung lobe. The airway tree's bronchial branches form a mesmerizing pattern, resembling delicate fractals as they branch. the Pulmonary artery also follows the branching pattern to a large extent, playing critical roles in ensuring efficient circulation of blood for oxygenation.


---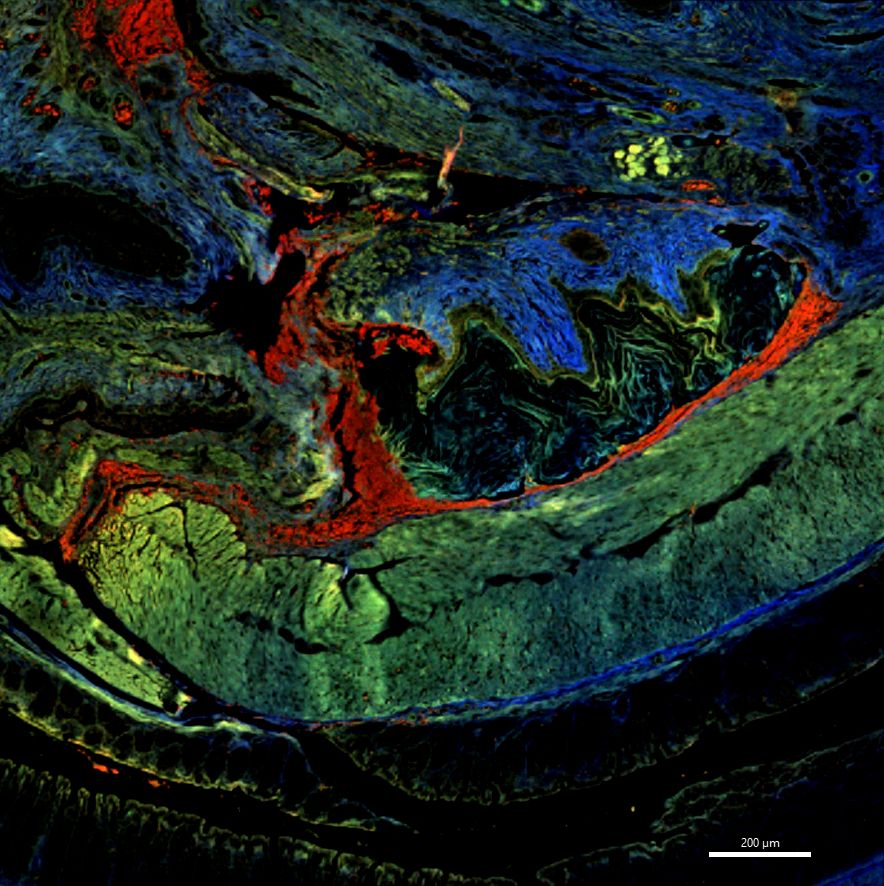 Gut Feeling
Esther Koh (LKCMedicine) and Png Chin Wen (Department of Microbiology and Immunology, NUS)
Colon section stained with haematoxylin and eosin. A serendipitous discovery of fluorescence in histological stains. Blue, green and red fluorescence captured using the LSM800 confocal microscope. Twelve fields of view stitched together (10x Plan Apochromat 0.45NA objective).
---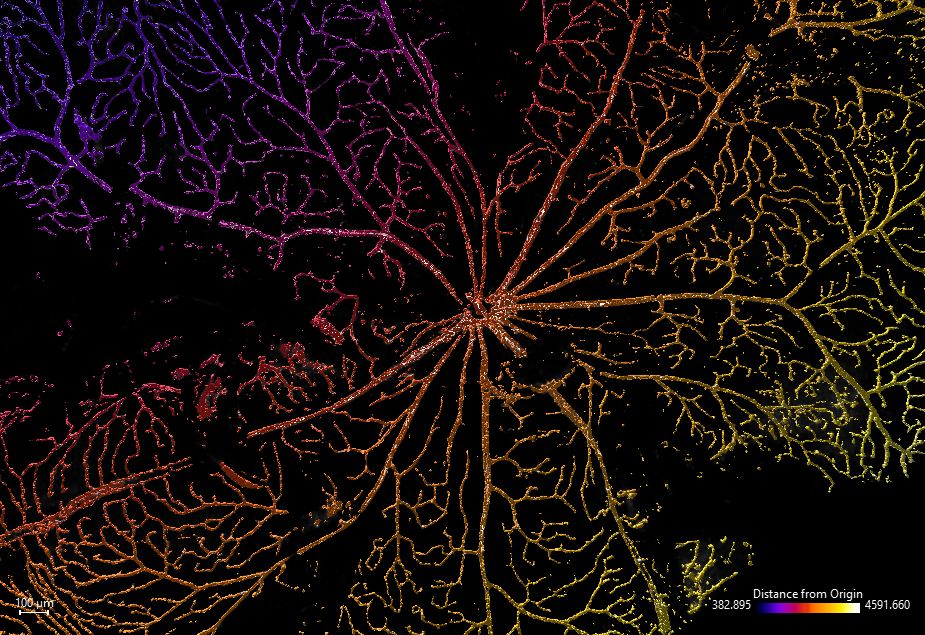 iNetwork
Aparna Mahadevan (LKCMedicine)
Retina from a 2-month-old mouse was dissected and stained with Texas-Red conjugated Lycopersicon esculentum (tomato) lectin to visualize the blood vascular network. The retina was flat-mounted on a depression slide and imaged on the Carl Zeiss LSM800 inverted scanning confocal microscope using Plan-Apochromat 20x/0.80 objective, 561 nm laser, z-stack and tile function. The raw images were stitched using Imaris Stitcher and further processed on Imaris (9.9.1) using its maximum intensity projection and brightness-contrast functions. This image was surface-rendered and colour coded to distance from the origin. The scale bar is 100um.
---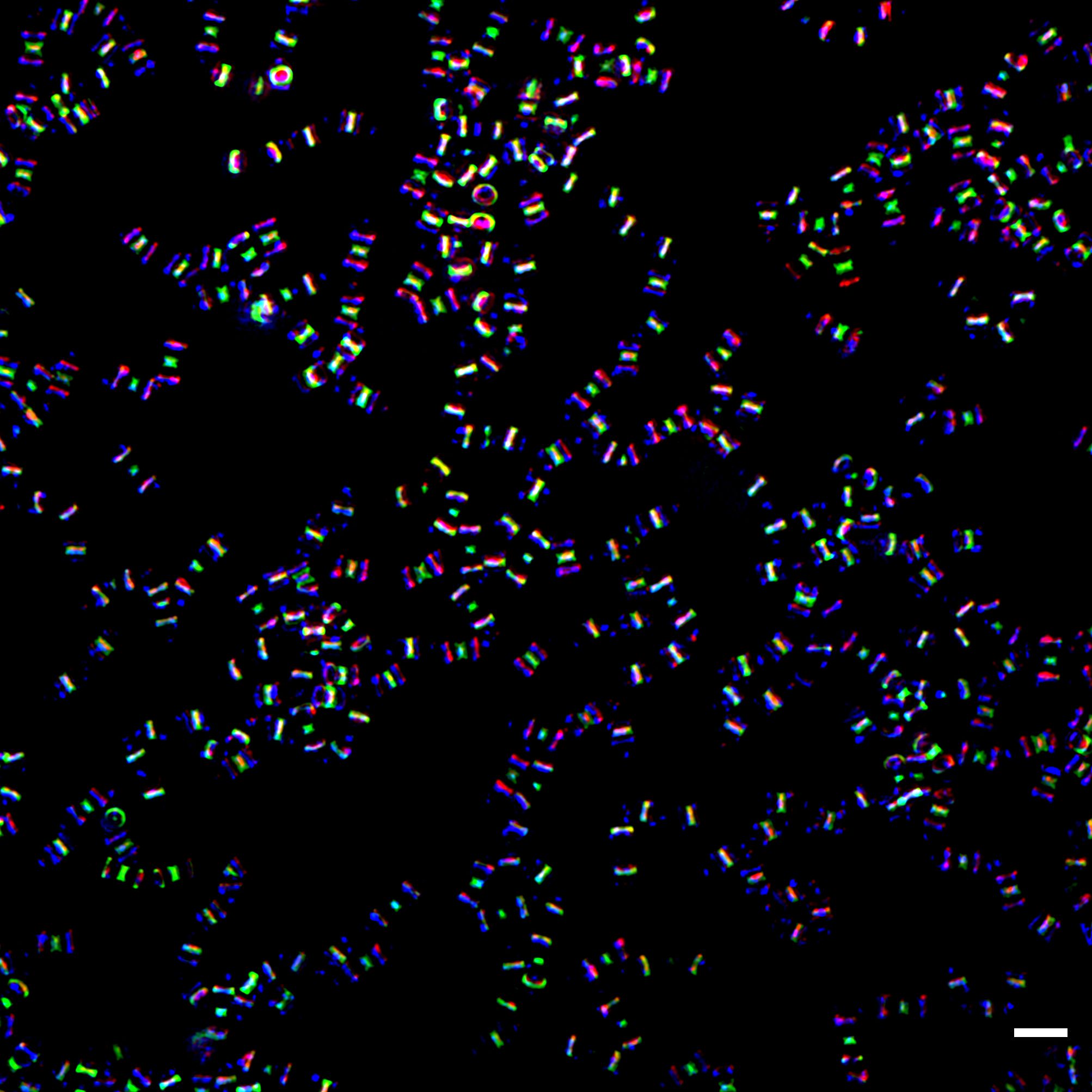 Kaleidoscopic walls
Choo Pei Yi (SCELSE)
Enterococcus faecalis cells stained for newly synthesized cell wall. Three different colored cell wall labelling fluorescent probes in the sequence of green, red and blue were added one after another in short pulses, revealing the age of the cell wall. The final image was acquired using the Carl Zeiss ELYRA PS.1 and processed via Structured illumination microscopy (SIM) at 100x magnification. Scale bar: 2 μm
---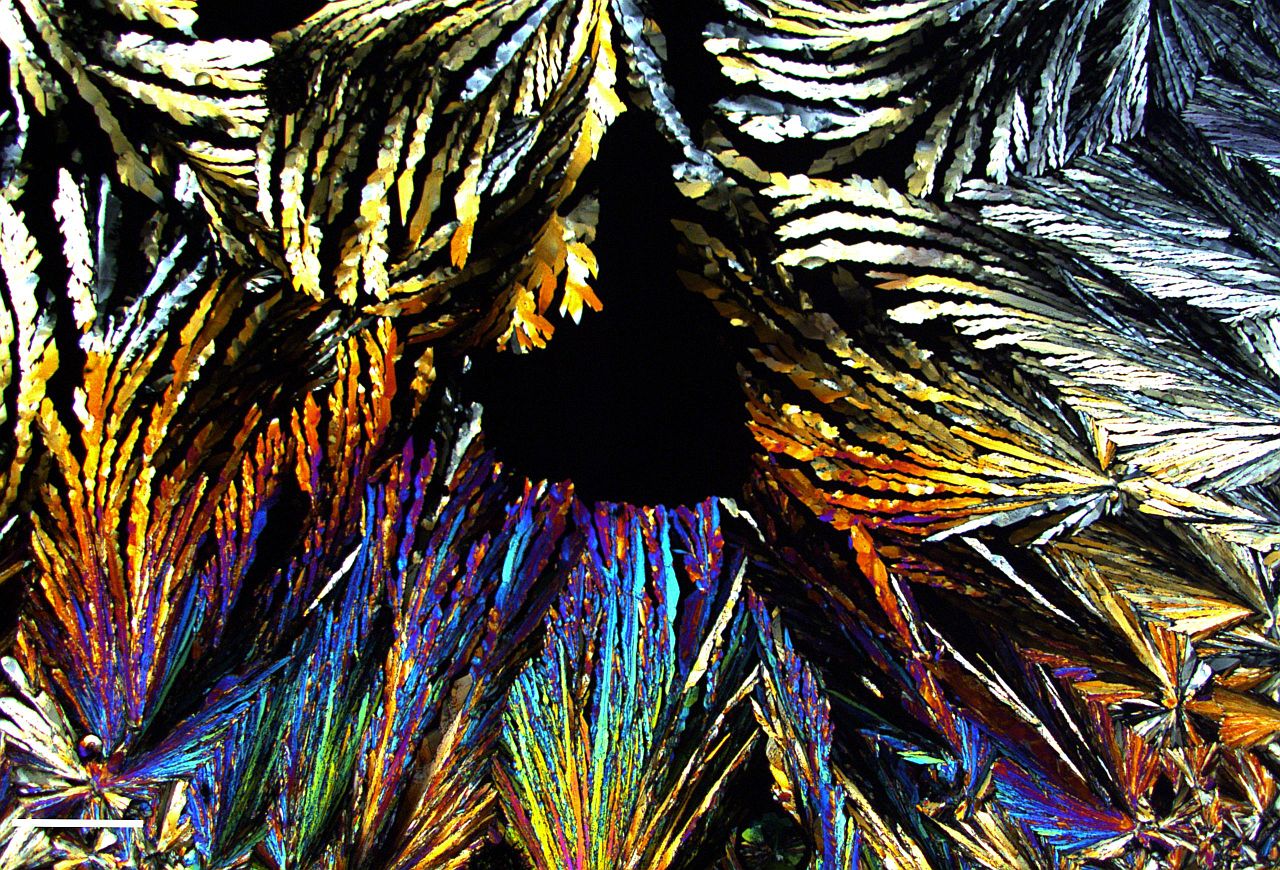 Palm fronds in acid
Harsha Mahabaleshwar (LKCMedicine)
A drop of citric acid solution on a glass slide was gently heated to initiate crystallization and imaged on Leica DM5500 microscope using polarized light through HCX PL Fluotar 1.25x/0.04 dry objective. The image was further processed using the crop function in Fiji/ImageJ. Scale bar indicates 1mm. The image shows the intricate patterns and vibrant colours of citric acid crystals due to birefringence.

---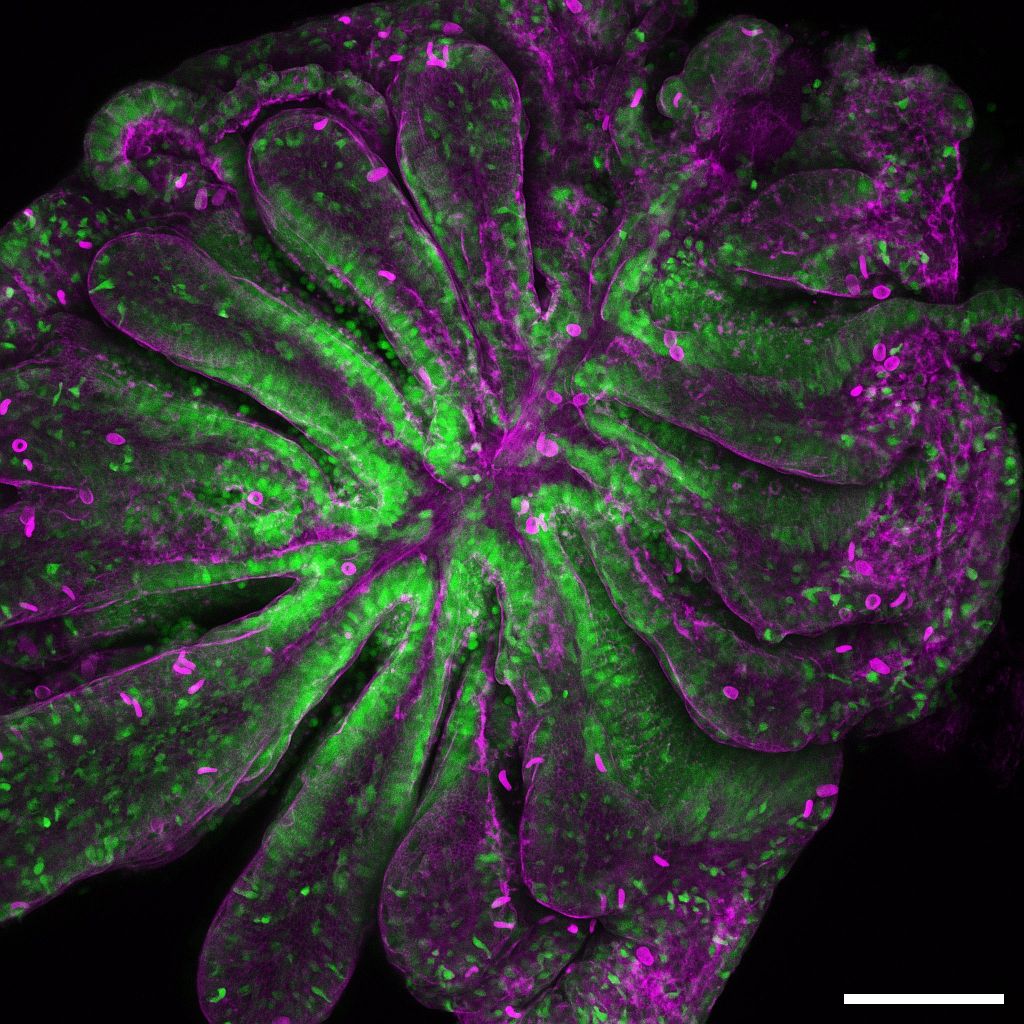 This is how fish smell!
King Yee Cheung (LKCMedicine)
Taken on the Upright Confocal LSM800 with a 40X water objective, 0.5x zoom, 2048 x 2048 px, scale bar = 100 micrometres. The image shows the adult zebrafish (dissected) olfactory organ. It is remarkable and surprising to learn of their beautiful 3D rosette shaped morphology. The zebrafish line used was Tg(cldnh:eGFP). The GFP is driven by a cldnh gene promoter. Cldnh in humans is normally involved in retinal development, but in the zebrafish it is expressed in sensory cells. Here it is strongly expressed in many classes of olfactory sensory neurons (green), which bind to odorants in the external environment and give rise to the sense of smell. The organ is stained with Alexa Fluor 568 phalloidin, which shows F-actin structures, a key cytoskeletal component (magenta).